Want to spend thousands of dollars to have the professionals line up joint venture partners to promote you and have the title of best selling author for the rest of your life? This Week's Case Study: HasmarkServices.com
If you aren't connecting with your fellow JV ATTRACTION members on facebook you are leaving profitable relationships on the table. Speaking of which…
This is the second time I've been blessed to promote Dr. Orloff's book. The last time was with her amazing book Emotional Freedom and this one is just as amazing!
TODAY IS HER BIG BEST SELLER CAMPAIGN
Get Dr. Orloff's amazing book The Ecstasy of Surrender to tap the power of letting go! 
"This book takes you straight into the light: our surrender to an intelligence, power, and love that is greater than our own. Dr. Orloff nails it." … Marianne Williamson
Judith Orloff MD – a UCLA psychiatrist and intuitive medicine pioneer is such an inspiration to me in furthering my work as an intuitive, spirit guided teacher, author, speaker, mentor. Why? She invites you on a remarkable journey to surrender more deeply to your life.  Dr. Orloff blows apart old stereotypes about sex, power, beauty, money, health, and healing!
She shows how SURRENDER is the secret element to success (it doesn't mean defeat)-the complete opposite of what we've been taught!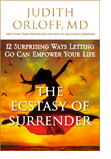 Here's an interview I did with her on her amazing book Emotional Freedom and The Ecstasy of Surrender is just as amazing!
Dr. Orloff celebrates the exciting launch of her new book, The Ecstasy of Surrender: 12 Surprising Ways Letting Go Can Empower Your Life.
She is treating you to an incredible one-time book launch offer with special downloadable gifts $1000's in value (Including a hard copy of my book "Get Out Of Hot Water Fast").  To purchase the book and receive your "Manifest the Power of Surrender" Gift Collection go to: http://EcstasyOfSurrender.com
In The Ecstasy of Surrender Dr. Orloff states: "Though surrender is often considered counter-intuitive to success-it's wrongly associated with weakness-this results-oriented book shows you how surrendering can make you more powerful, intuitive, spiritually connected, and ecstatically in the flow. The promise of The Ecstasy of Surrender, from succeeding in business to falling in love to accepting death, is letting yourself be catapulted beyond the ordinary to view all of existence in extraordinary terms."
Publisher's Weekly's review of The Ecstasy of Surrender says: "In this hope-filled offering Orloff posits that the only way to live a powerful, successful life is to surrender to it."  The Ecstasy of Surrender has rave reviews from luminaries such as Deepak Chopra, Christiane Northrup, M.D., Ram Dass, Marianne Williamson, Caroline Myss, Larry Dossey, M.D., Brian Weiss, M.D., and Doreen Virtue. They call it "brilliant," "luminous," "eloquently written," and "insightful."
Visit http://EcstasyOfSurrender.com. It a great read and study on successful best seller, joint venture launches!